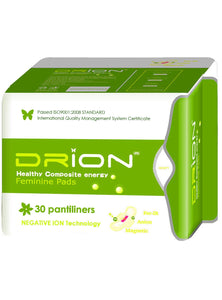 Drion Pantiliners
Drion Pantiliners
Drion Pantiliners help minimise odours and maintain a positive mood and a feeling of freshness.
Great to wear at work, at play or when travelling, we recommend using Drion Pantiliners every day between periods. Slim and discrete, they are a great fit and eco-friendly! 
Chemical free; no chlorine or dioxins
Form fitting natural cotton – anatomically designed for superior comfort
Slim and discreet
No slippage - natural food grade adhesive ensures liner stays in place

Contains signature green tourmaline strip with

far infrared rays and negative ions - 

supports hormonal balance & minimises odors
Individually sealed within re-sealable packs
Each pack contains a FREE  PH self test kit
Hypoallergenic, biodegradable and compostable
Drion Pantiliners are 155mm long
Each Drion Pantiliner pack contains 30 individually sealed liners – a whole month's supply!